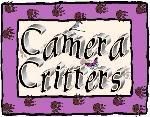 This weeks question:
What is your favorite vegetable?
Answer: Um.... I don't really like vegetables. Unless you count hot and spicy pickles, which I cannot find anymore. :-(
On to today's picture!
Remember my last post? About my Lilly who's owner hadn't been feeding her FOREVER.
Well, we kept on him enough and on animal control who kept on him enough, and now he buys her grain, but my mom's friend feeds her. And here's what she looks like now!
Isn't she beautiful?